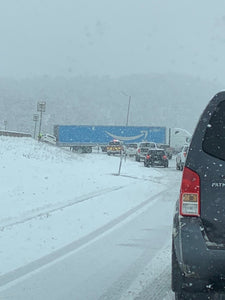 Welcome to the I-70 Things Community Blog
Welcome to the I-70 Things Community
Have you ever been stuck on I-70 and wondered what's the hold up? Yup, we feel your pain. What was it this time? A semi that jack knifed? A car without snow tires? If you resonate with these statements above you're in the right place.
The Community Approach
The I-70 Things Community was born out of the love hate relationship with the highway. When we realized that all the interesting 'things' that we saw during our I-70 drives weren't being compiled in one place we decided to head the call. What was born out of this initial goal is an awesome community that provided tips on accidents ahead, helpful information about road conditions, road closures, entertainment and much more. Our community members are to thank for this.
Colorado
Most of the content we share on social as well as the updates we will provide here in our blog will be centered around Colorado. There are two main reasons for this.
This our backyard. We know this stretch of highway and how treacherous it can be
Having the mountains here does create more havoc than a traditional flat highway
With this being said, we will sometimes include information about other stretches of I-70, but as you may very well know… Colorado is where the action is.
Why the blog?
Sometimes the drive is smooth, but let's be honest many times it is not.This blog will serve as a vehicle for I-70 Things to summarize the week's road news, provide tips for safe driving, updates for potential inclement incoming weather and without a doubt entertainment for you.  
There is that collective feel and excitement that surrounds the I-70 area and lifestyle. The I-70 blog is a place where we can all share stories within this unique community that looks to venture out into the mountains everyday.
We'd like to thank our community and hope you enjoy what we have in store for you. Don't forget to follow us on instagram @i70things
The featured image
This blogs featured image was titled the Suez Canal I-70 Edition. 
PS: We're a small team. So if you'd like to be a guest blog writer and have an interesting topic or a wild I-70 story that you'd like to share please email us at i70tings@gmail.com. Also if you're an expert in an applicable industry we'd love to interview you. 
---