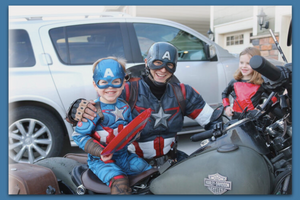 Learn about the Colorado Captain, his mission and how he got started
 Last week we had the pleasure of interviewing Matt aka the Colorado Captain. After posting a photo of him earlier in the week, the outreach I-70 Things received regarding the good deeds he's doing made us intrigued and we wanted to learn more. Matt's story and mission are amazing, so we hope you enjoy this blog post.
Let's start with a little background…
The Colorado Captain has evolved over the years from getting a better uniform to upgrading his motorcycle piece by piece, but his mission has always stayed the same. The Denver native first started dressing up and cruising around Colorado in 2015 when he was presented with the opportunity to work with Wands and Wishes, an events group here in Colorado, that brings cheer to children.
 In 2015, a child by the name of Jackson, had Colorado Captain come to his Make a Wish party to boost morale. This was his first time dressing up for an event, and as Jackson's father put it "he [Matt] was a natural!" This was what gave the Colorado Captain the bug to continue to do what he loves and share his superpower, which is his smile. Fortunately, Jackson went on to survive and this first encounter was something Colorado Captain has never forgotten. 
Realizing the power in the simple gesture of a smile, he embarked on a plan to use his outfit to do good like a real-life superhero. Whether riding around the Centennial state reminding Coloradans to vote or surprising kids at their birthday parties, he's always there to take you out of the moment and make you feel refreshed.
Now Colorado Captain has evolved to riding all around the US helping raise awareness for veterans as well as first responders, and a number of other important humanitarian causes.  While partnering with Cap for Kids, he can be seen at events raising money for kids fighting cancer too. It is safe to say, he puts the community first and we couldn't be prouder of him for all he's done.
 Fun Fact: The Colorado Captain raised $10,000 dollars in 2019 for Cap for kids.
Matt now rides around the United States spreading awareness and raising money for humanitarian efforts with his contagious superpower of a smile. 
Want to keep up with what the Colorado Captain is doing? Or see what event he'll be attending next? Here are the links to his social pages as well as his website.
IG: Coloradocaptain
Website: Coloradocaptain.com
FB: Coloradocaptain
Find Direct donation link on Instagram
Have any questions? Feel free to ask your questions in the comments section below.
Thanks for reading!
 Featured Image
Colorado Captain with kids on his motorcycle 
PS: We're a small team. So, if you'd like to be a guest blog writer and have an interesting topic or a wild I-70 story that you'd like to share please email us at i70tings@gmail.com. Also, if you're an expert in an applicable industry we'd love to interview you.
---