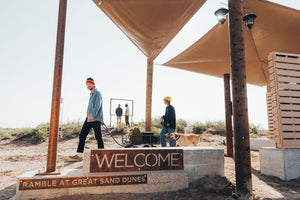 Rediscovering Nature's Bliss with Ramble: An Unforgettable Colorado Camping Experience
In today's fast-paced world, where technology dominates our lives, finding solace in nature has become a rare luxury. However, one company here in Colorado is changing the narrative by providing unparalleled camping experiences that reconnect people with the great outdoors. 
Ramble, a pioneering campground company, has garnered significant attention for its commitment to providing unforgettable adventures and fostering a deep appreciation for nature. In this blog post, we'll explore the essence of Ramble and delve into our interview with the company's founder, Matt Oesterle, to gain further insight into the magic behind their exceptional offerings.
 Credit: Sam Starr Media
Discovering Ramble 
Ramble stands out among the vast array of camping companies for its unwavering dedication to curating immersive experiences that combine adventure, comfort, and environmental sustainability. By combining their expertise in outdoor activities with their love for nature, Ramble has created a niche that transcends traditional car camping experiences.
Unique Accommodations:

One of the key aspects that set Ramble's campgrounds apart is its focus on unique accommodations that blend seamlessly with nature. From shade structures and tons of space at every site to outdoor kitchens with sinks, Ramble provides a diverse range of options that cater to various preferences. These thoughtfully designed accommodations are strategically placed in breathtaking natural settings, allowing guests to immerse themselves fully in their surroundings while enjoying the comforts of a home away from home.

Expertly Curated Experiences:

Ramble takes pride in meticulously selecting their locations that cater to many activities for all levels of outdoor enthusiasts. Whether you're a seasoned adventurer or a beginner seeking an introduction to the wonders of nature, Ramble has something for everyone. 

Embracing Sustainability:

Ramble's commitment to environmental sustainability is woven into the fabric of its operations. They place a strong emphasis on leave-no-trace principles, encouraging guests to minimize their impact on the environment. Additionally, Ramble actively collaborates with local conservation organizations to support initiatives aimed at preserving and protecting the natural beauty of the areas in which they operate.
Let's dive into our interview with Matt, Founder of Ramble: During a recent interview with Matt, the visionary behind Ramble, we gained further insights into the company's mission and vision.
What inspired you to start Ramble? 
Matt shared, "I've always had a deep connection with nature and a passion for adventure. I wanted to create a platform that allows people to experience the beauty of the outdoors in a meaningful way. Ramble was born out of this desire to share nature with others and provide them with transformative camping experiences."
What makes Ramble different from other camping companies? 
Ramble is all about creating lasting memories. Their focus is on curating unique experiences and ensuring that every guest feels a genuine connection with nature. From outdoor kitchens and Solo Stoves to hot showers and toilets the Ramble experience is like none other.
How does Ramble contribute to environmental sustainability? 
Ramble's commitment to sustainability is deeply ingrained in everything they do. They actively collaborate with local conservation organizations, support community initiatives, and educate their guests on the importance of preserving the environment. "By adopting eco-friendly practices and promoting responsible travel, we aim to minimize our ecological footprint," Matt emphasized.
Ramble is a unique camping company that offers an unparalleled blend of adventure, comfort, and environmental consciousness, Ramble provides a gateway to reconnecting with nature and creating cherished memories. If you're seeking an unforgettable camping experience that will leave you rejuvenated and inspired, Ramble is undoubtedly the perfect choice.
Want to check them out? Here are their links!
Website: http://ramble.camp
Instagram: @ramble.camp
Credit: Sam Starr Media
Thanks for reading! 
PS: We're a small team. So if you'd like to be a guest blog writer and have an interesting topic or a wild I-70 story that you'd like to share please email us at hello@i70things.com. Also if you're an expert or have a business in an applicable industry we'd love to interview you. 
---