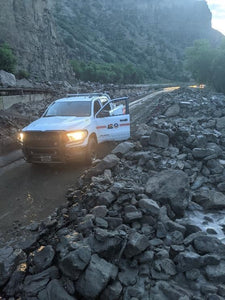 Grizzly Creek Fire's burn scar continues to plague Glenwood Canyon 
Picture this...
You're driving on I-70 through Glenwood Canyon and you receive a flash flood alert on your phone. Minutes later, before you know it, a mudslide pops up behind your car and another one directly in front you. Sounds scary right? Well that's exactly what happened last night in the Canyon.
Why?

Ever since last year's Grizzly Creek Fire, Glenwood Canyon has seen some serious mud and rock slides. Unfortunately, there seems to be no end in sight.
As of writing this, Glenwood Canyon is closed and rightfully so due to a massive rockslide making I-70 impassible. (Check the featured image to see what we're talking about) This is a very scary thought because last night multiple vehicles got stuck during a flash flood that occurred in this area due to a quick moving storm cell that hit the canyon shortly after 9pm.
More than 20 people had to retreat into a tunnel and wait to be rescued the next morning. During the fast rising flood waters, vehicles were swept up from the road and started moving. Safe to say, this would be anyone's worst nightmare. Luckily, nobody was injured and everyone was rescued the next morning thanks to CDOT, Glenwood Recreation Center and the American Red Cross.


So what now?


Since Colorado's forecast expects a lot of rain this weekend, we can most certainly expect these mudslides to continue and unfortunately worsen. Due to this, Glenwood Canyon may be closed all weekend in an effort to keep motorists safe from these potentially hazardous conditions. 
Have any questions? Feel free to ask your questions in the comments section below.
Thanks for reading!
 Featured Image
July 30th's Mudslide - Rockslides are no joke provided by CDOT 
PS: We're a small team. So if you'd like to be a guest blog writer and have an interesting topic or a wild I-70 story that you'd like to share please email us at i70tings@gmail.com. Also if you're an expert in an applicable industry we'd love to interview you. 
---